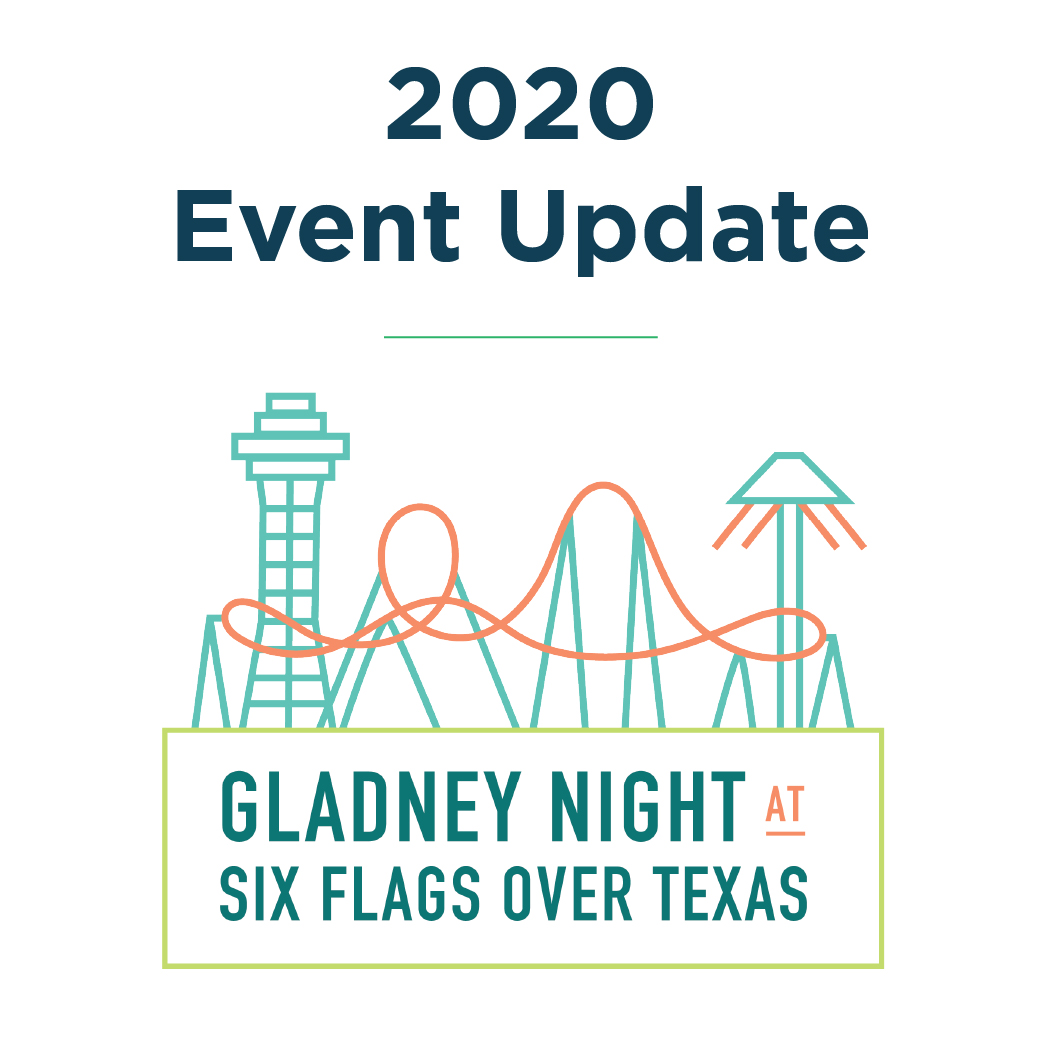 Many factors went into you deciding whether to join us for Gladney Night at Six Flags, scheduled for Friday, August 28, 2020. Gladney has continuously been evaluating whether to proceed with this year's event based on those same factors, and because of all of those, we are putting family first and canceling this year's event. 
  
The tradition of this event is built on the joy of running around the park, hugging old friends, making new ones, and only having illness concerns related to upset stomachs from too many roller coasters! With all of those things being more challenging to guarantee this year, we pause our 38-year history once again. We believe we are better together and are already planning for April 2021! 
  
The outpouring of support from our many Gladney Supporters, Families, and Friends is invaluable. 
  
We are also grateful for our partner, Six Flags Over Texas, which has shown a tremendous amount of support, generosity, and compassion towards Gladney's mission of adoption. 
  
Until we can all celebrate together – our mission of Creating Bright Futures Through Adoption continues. 
 
Six Flags Over Texas will be refunding all tickets purchased for the event through their website. To receive a refund, please click on this link and complete the form to begin the processing of your refund: https://www.sixflags.com/overtexas/plan-your-visit/groupsales-coronavirus-issues. You must initiate the refund process by August 21, 2020. Please note that the estimated processing time is approximately two weeks.
  
If you purchased a VIP ticket package, you will be contacted by Gladney staff to process and receive a refund. 
  
Six Flags Over Texas has provided a special rate for Gladney Night at Six Flags supporters. If you are interested in going to the park on a day of your choosing during the 2020 season, you can purchase a ticket here. [Username: GLADNEYOT; Password: SixFlags9 ​ (Password is Numeric & Case Sensitive)]
  
Please reach out to Susanne Smith at susanne.smith@gladney.org or 817.922.6005 with any questions.