"Country music, at its core, is about storytelling.
Songs that hit us in the gut and stick with us are full of lyrics
with real life stories that anyone can relate to . . .
about love, loss, hope, friendship, and family." – Pat Green
This year is especially sentimental, as Gladney is celebrating 130 years of creating bright futures through adoption. Celebrating such a monumental anniversary calls for a monumental event - ADOPTION ROCKS! Gladney is thrilled to partner with our friends at The Pat Green Foundation to celebrate 130 years of family. Together, we are proud to present the community with a special evening of great tunes and stories with Pat Green for a special cause on November 3, 2017, at MOPAC Event Center in Fort Worth, Texas.
This event will host 500 people and will benefit The Pat Green Foundation and Gladney, our Fort Worth-born and raised adoption organization that has placed over 30,000 children with loving and caring families since 1887. We guarantee the energy in the room will be undeniable and will be a wonderful celebration of family!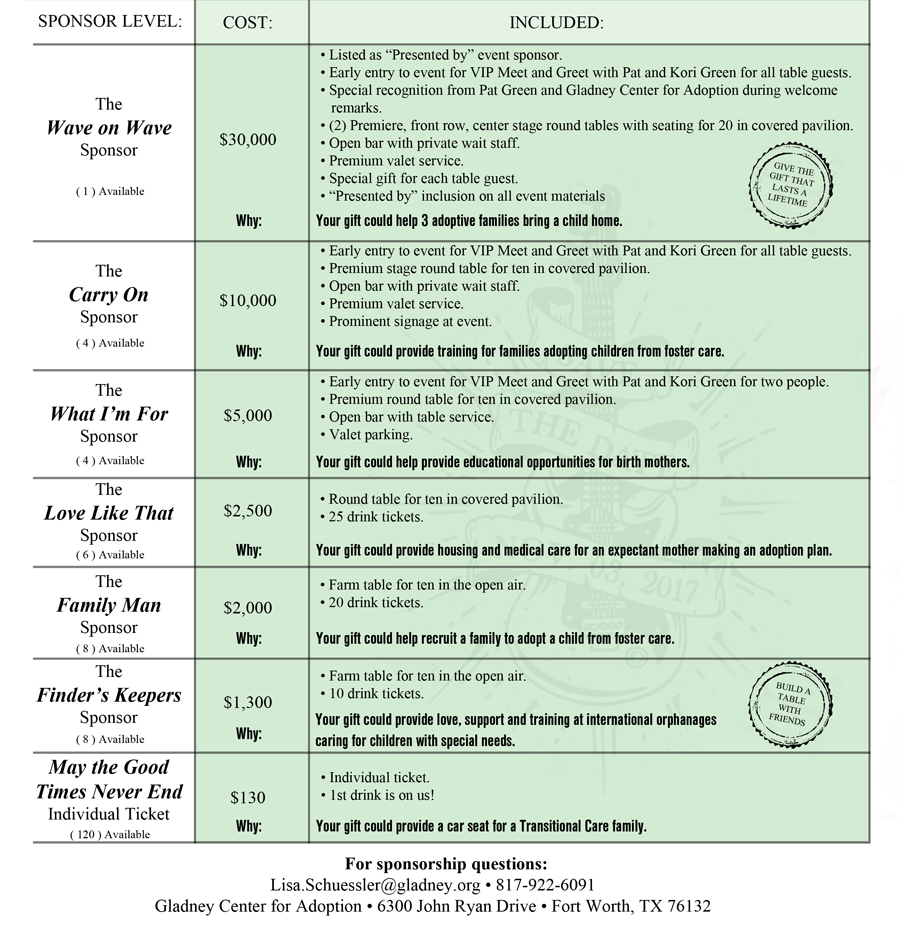 When
November 3rd, 2017 7:00 PM through 10:00 PM
Location
1615 Rogers Road




MOPAC Event Center




Fort Worth

,

TX

76107




United States



Sponsorships and Tickets:
The What I'm For Sponsor
$ 5,000.00
The Love Like That Sponsor
$ 2,500.00
The Family Man Sponsor
$ 2,000.00
The Finder's Keeper's Sponsor
$ 1,300.00
May the Good Times Never End Individual Ticket
$ 130.00
Table Guest
If you would like to amend an existing registration, please call us at 817-922-6005. If registering for another person, please enter their name in the participant section and your name in the billing section.