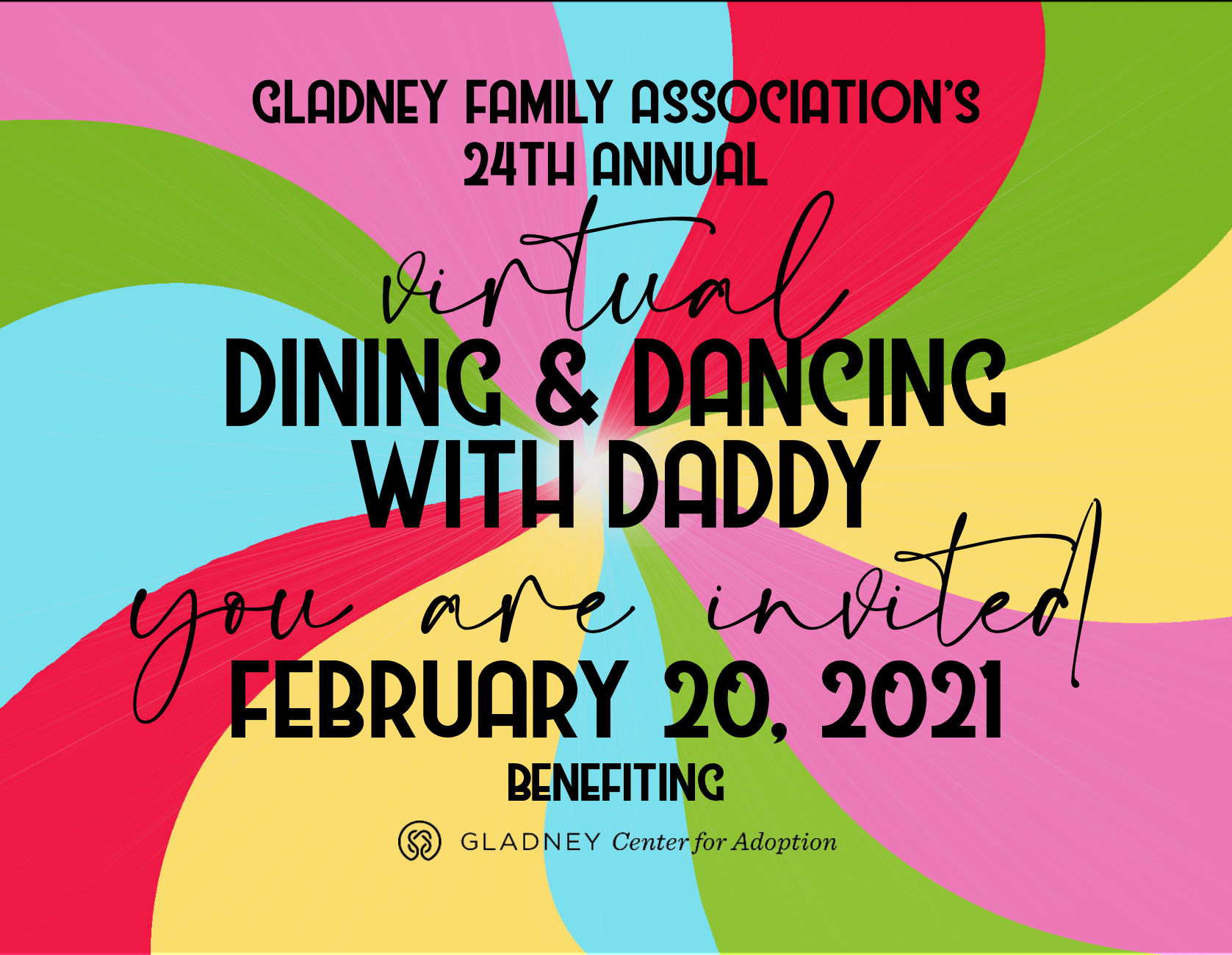 >This year Dining and Dancing with Daddy is going virtual. We're providing a box full of fun so you and your daughter (or the whole family) can create a memorable evening at home. Each box includes a "Willy Wonka" PARTY FOR TWO, and access to the livestream event. If you can't make it on Saturday night, February 20th, you can enjoy a replay of the livestream event any time the following month.

Although we will miss seeing all of you in person, we can't wait to see how you personalized your party space and how you made it a special night! Here are some ideas:
Buy an extra box or two and make it fun for the whole family letting Mom and other kids join in a night of dancing! Maybe you could have a dance contest?

Spread the word to your small bubble of friends or family to buy a box too! If you're comfortable doing so, you can host them by ordering some pizza and putting your boxes and your dance moves together for a night of fun or host it over zoom for a socially distant option!

Don't forget the Shirley Temples and/or Roy Rogers!!! (Sprite or cola, grenadine and a maraschino cherry)

Dining and Dancing with Daddy Party in a Box would make a great gift from grandparents... Then again,
why not invite them to join the fun. We know they have some great dance moves they can teach the family!

Of course, our Party in a Box contains a few sweet treats, but it doesn't include dinner so why not order your favorite takeout (or a charcuterie board?) and make it a fun, family night with no cooking or dishes to do!

If you're not up for much dancing, party for awhile with our livestream event and then pop in a movie for a family movie night - maybe even Willy Wonka and the Chocolate Factory to continue the party theme!
We'll have a chance during our livestream event for you to share your photos using the hashtag #GladneyDance21 and we might even give you a chance to win a prize!

Once you have registered, you will receive a confirmation email that will allow you to sign up for a time on Friday, February 19, or Saturday, February 20, to pick up your boxes at All Souls Episcopal Church, 6400 N Penn, Oklahoma City.

If you are outside of the area, you are still welcome. We have a shipping option available for anyone outside of the Oklahoma City Metro Area.
If you have any questions, please contact Kimberly Bilger at (512) 560-5913.

We look forward to seeing you all virtually and are even more excited about seeing you in person in 2022!
When
February 20th, 2021 7:00 PM through 9:00 PM
Event Details
| | |
| --- | --- |
| Appeal | 2021 Dining & Dancing with Daddy |
If you would like to amend an existing registration, please call us at 817-922-6005. If registering for another person, please enter their name in the participant section and your name in the billing section.