GLADNEY UNIVERSITY: The purpose of Gladney University is to equip clients and professionals with the knowledge they need to help provide positive and healthy outcomes for the children we serve. Gladney University provides adoptive parents with education and support before, during and after their adoption. This education and support helps Gladney provide the finest adoption experience possible, and its part of Gladney's promise of family for life. Additionally, Gladney University provides medical professionals, counselors, social service advocates and community members with cutting edge continuing education programs by offering relevant and engaging, web-based and in person educational adoption and child welfare resources. Gladney is uniquely positioned to provide outstanding training to parents and professionals because of our 130-year history of serving families and children. Our staff is highly qualified, experienced and compassionate. This combination creates dynamic and very successful training programs.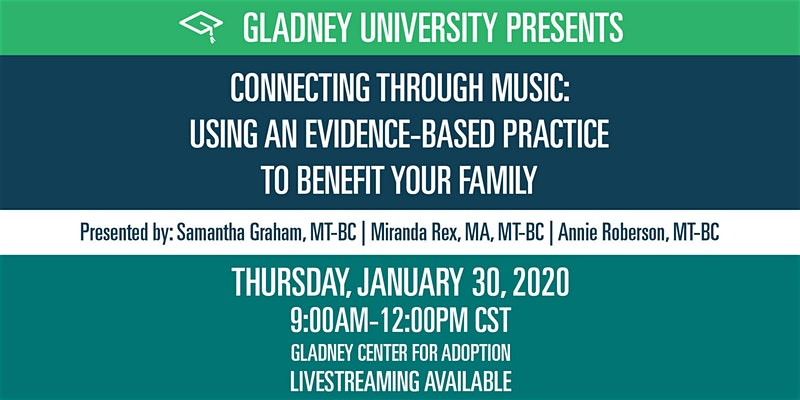 ---
DESCRIPTION
Join Gladney University for Connecting through Music: Using and Evidence-Based Practice to Benefit your Family .
About this Event
You know that music is a unifying universal experience, but did you know that it is also a powerful and therapeutic medium? In this workshop, you will learn how music can be used to impact various facets of human life from neurological development to emotional regulation and everything in between. Live demonstrations and interactive experiences will provide concrete examples of ways to use music to affect change at home and in the workplace. By the end of the presentation, participants will have an increased understanding of ways to use music on their own as well as the additional benefits of working with a board-certified music therapist.
About the Speaker:
Sammi Graham, MT-BC, completed her music therapy coursework and minor in psychology at Sam Houston State University. Sammi's primary instrument is voice and she was able to cultivate her talents with SHSU's Chorale and Opera Theatre.
Sammi's clinical experience includes working with: children and adolescents with learning disabilities, adolescents and adults in psychiatric care, adults with substance use disorder, adults in neurorehabilitation centers, and individuals of all ages with intellectual and developmental disabilities.
Sammi became a Sound Birthing Music Therapy Assisted Childbirth Specialist in July of 2019 and is eager to use her knowledge to support families throughout the birth process.
Sammi is passionate about continuing education and aspires to become a certified doula, counselor, and Neurologic Music Therapist in order to enhance her practice. Sammi also aspires to continue performing in some capacity. Sammi enjoys living in Fort Worth and is thrilled to be part of the Heart and Harmony team!
Miranda Rex, MA, MT-BC, graduated with a bachelor's degree in music in 2014, and completed her master's degree in music therapy at Texas Woman's University in 2018. She is a Music Therapist – Board Certified (Certification #13860) and hopes to one day pursue a master's degree in counseling to become a Licensed Professional Counselor.
Miranda's primary passion is children and teens with mental health and behavioral concerns, but she also enjoys engaging with individuals across the lifespan with intellectual and developmental disabilities. Miranda is thrilled to be fulfilling her dream of being a music therapist in the DFW area, and is excited to be a member of the Heart and Harmony team. When she is not working, Miranda loves to read, stream movies and TV shows, and spend time with her friends on and around the Denton square.
Annie Roberson, MT-BC, Neonatal ICU Music Therapist, Sound Birthing Music Therapy Assisted Childbirth Specialist, completed her music therapy coursework at the University of Alabama with a primary instrument of trumpet. Annie completed her internship with Heart and Harmony in the fall of 2018. She is a professional member of Autistic Self-Advocacy Network (ASAN).
Annie's clinical experience includes NICU infants, children, teens, and adults with intellectual and developmental disabilities, children and teens with emotional and behavioral disorders, adults in oncology units, and adults with dementia in memory care units. Annie completed her Sound Birthing Music Therapy Assisted Childbirth Specialist in July 2019 and is excited to support parents and babies in the DFW area.
In her free time, Annie enjoys watching the Nashville Predators play hockey, the Alabama Crimson Tide win national championships, crocheting, and being in the great outdoors. Born and raised in Nashville, TN, Annie is thrilled to serve the DFW community with the incredible team of Heart and Harmony therapists!
---

---
Please register for all Gladney University trainings on EVENTBRITE

When
January 30th, 2020 9:00 AM through 12:00 PM
If you would like to amend an existing registration, please call us at 817-922-6005. If registering for another person, please enter their name in the participant section and your name in the billing section.