GLADNEY UNIVERSITY: The purpose of Gladney University is to equip clients and professionals with the knowledge they need to help provide positive and healthy outcomes for the children we serve. Gladney University provides adoptive parents with education and support before, during and after their adoption. This education and support helps Gladney provide the finest adoption experience possible, and its part of Gladney's promise of family for life. Additionally, Gladney University provides medical professionals, counselors, social service advocates and community members with cutting edge continuing education programs by offering relevant and engaging, web-based and in person educational adoption and child welfare resources. Gladney is uniquely positioned to provide outstanding training to parents and professionals because of our 130-year history of serving families and children. Our staff is highly qualified, experienced and compassionate. This combination creates dynamic and very successful training programs.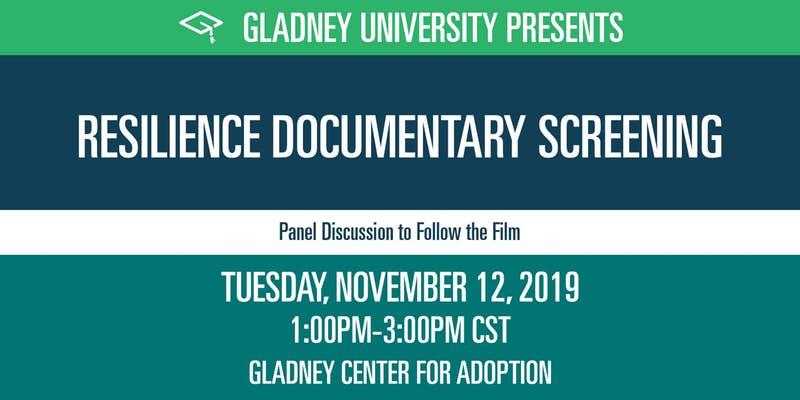 ---
DESCRIPTION
You may have come across the term adverse childhood experiences or ACE, but do you know the research behind this influential research study? Join us for a screening of the documentary "Resilience" to discover the long term impact toxic stress can have on the brains and bodies of children. "Resilience" also follows innovators in pediatrics, education, and social welfare who are using cutting-edge science and field-tested therapies to protect children from the insidious effects of toxic stress—and the dark legacy of a childhood that no child would choose.
Stay afterwards for a dynamic panel of professionals to discuss their perspective of how adverse childhood experiences have come into play in their professional fields.
About the Panelists:
Dr. Melody Aye Loya, LMSW-IPR is an Associate Professor and is the Department Head of Social Work at Tarleton State University. She teaches primarily in the MSW program. Prior to entering academia, her practice experience centered on adoption and foster care. Dr. Loya has a BSW from West Texas A&M University, a MSSW from the University of Texas at Arlington, and a Ph.D. in Human Services with a specialization in Social Work and Community Services from Capella University. She has two daughters (one biological and one adopted) and six grandchildren. She and her husband love to travel and have one very spoiled Chihuahua.
Todd Treat, LPC is currently the Director of Clinical Services for MHMR Tarrant County Youth Services. He has been a TBRI® practitioner for the last six years. Todd currently serves on workgroups with the Mental Health Connection, including the Recognize and Rise Trauma Resiliency task force. He also serves on the Tarrant County Youth Homeless Coalition and the Multidisciplinary Threat Assessment team in Arlington. Todd has over twenty years of experience working with youth and their families. He has worked with the Gladney Center for Adoption in a variety of roles over the last ten years, including adopting three children with his wife.
Molly Davidson is a Training Specialist with the Karyn Purvis Institute of Child Development (KP ICD) at TCU. As training specialist, Molly's main focus is instructing professionals working with children who have experienced trauma, in Trust-Based Relational Intervention® (TBRI®). TBRI®, a holistic, attachment-based, and trauma-informed intervention designed to meet the complex needs of vulnerable children. TBRI® offers practical tools for caregivers to help those in their care reach their highest potential. Molly earned her Bachelor's Degree in Social Work from Baylor University. She began her career working as an Investigator for Child Protective Services covering high-profile media and child-death cases. After serving at CPS for five years, she shifted her focus to foster care, where she has experience working in both domestic and international foster care. Molly spent 12 years serving youth and families within foster care settings as a direct-care worker and trainer before beginning her work with the Purvis Institute in September 2016. Molly lives in Fort Worth, TX with her husband, Tanner, and their dog, Penny-Lane.
Anu Partap, MD, MPH, has been a pediatrician for over 20 years. In 1970, her parents moved from India to Missouri and she was raised in St. Louis. In 1998, she joined the six year combined BA/MD program at University of Missouri Kansas City School of Medicine. After completion, she joined Phoenix Children's Hospital/ Maricopa Medical Center for pediatric residency and chief residency. During that time, she practiced in safety net hospitals and clinics, including school-based clinics, Native American health, private practice and co-launch a charity clinic program. She also wrote curriculum and trained pediatric residents in advocacy, adolescent health, underserved care, and research, developing the first residency training in Community Pediatrics in Phoenix. After a 3 year break to raise two girls, she joined The University of Texas Southwestern Medical Center in 2009 to focus her work on improving health outcomes of children affected by abuse and neglect as Medical Director of the Foster Care Clinics at Children's Medical Center in DFW. From 2009-2018, she expanded and redesigned foster care clinical and medical education services with the launch of the state's first multipronged integrated foster care health center, the Rees-Jones Center for Foster Care Excellence. Policy work led to her serving as consultant to Health and Human Services Commission on foster care health policy, including design and implementation of the state's new medical evaluation foster care requirements in 2017. In 2018, she returned to prevention work and became the Physician Director of the Center for Prevention of Child Abuse and Neglect at Cook Children's. There she works with a team on identifying effecting programs and policies to reduce child abuse in North Texas.Anu also works with the Texas Pediatric Society, serving on their Board since 2018 after co-chairing the mental health committee and co-founding the foster care committee. In 2018, she was elected to the AAP Executive Committee on the Council for Foster Care, Adoption, and Kinship Care. Anu has been invited to testify over eight times in foster care, mental health, and abuse, and given over 100 invited lectures in Texas and throughout the country. Several programs have received awards, as well as her personal work.
---

---
Please register for all Gladney University trainings on EVENTBRITE

When
November 12th, 2019 1:00 PM through 3:00 PM
If you would like to amend an existing registration, please call us at 817-922-6005. If registering for another person, please enter their name in the participant section and your name in the billing section.