GLADNEY UNIVERSITY: The purpose of Gladney University is to equip clients and professionals with the knowledge they need to help provide positive and healthy outcomes for the children we serve. Gladney University provides adoptive parents with education and support before, during and after their adoption. This education and support helps Gladney provide the finest adoption experience possible, and its part of Gladney's promise of family for life. Additionally, Gladney University provides medical professionals, counselors, social service advocates and community members with cutting edge continuing education programs by offering relevant and engaging, web-based and in person educational adoption and child welfare resources. Gladney is uniquely positioned to provide outstanding training to parents and professionals because of our 130-year history of serving families and children. Our staff is highly qualified, experienced and compassionate. This combination creates dynamic and very successful training programs.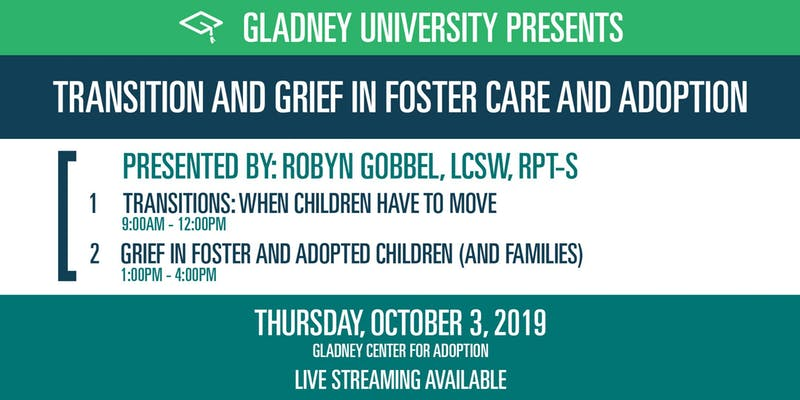 ---
DESCRIPTION
This training will be presented in 2 workshops- you may attend one or both sessions.

Session 1 - 9:00-12:00
Transitions: When Children Have to Move
Despite what can sometimes be described as heroic efforts, we can't stop children from having to navigate difficult transitions during their time in foster care. We CAN take important steps to ease these transitions, decreasing the risk of traumatic grief and increasing the possibility of resilience. Successful transitions require adults to be thoughtful, present, and attuned to children's needs. This workshop will cover the neurobiology behind why transitions are so challenging, what adults can do to lessen the trauma of a transition, how to support children through the intensity of their feelings related to another transition, and the importance of open, honest, and authentic communication with even the youngest of children.
Session 2 - 1:00-4:00
Grief in Foster and Adopted Children (and Families)
Foster Care & Adoption always begins with loss. Grief is inherent, although when and how children experience, express, and process their grief varies substantially. When parents, professionals, therapists and other helpers honor the grief inherent in foster care & adoption and understand the complexities of their losses, we open ourselves up to being more fully present for children to process their grief. This workshop will cover the losses inherent in foster care and adoption, grief related to adoption (including ambiguous loss), understanding why children grieve for abusive and neglectful families, supporting children through big, confusing, and overwhelming feelings, and how to notice if our own feelings may be being triggered and preventing us from being full present for children.
About the Speaker
Robyn Gobbel, LCSW, RPT-S has over 15 years of practice in family and play therapy experience, specializing in complex trauma, attachment, and adoption. Robyn is a therapist, trainer, and consultant who recently relocated to Grand Rapids, MI from Austin, TX. Robyn's diverse clinical training includes EMDR (including EMDR adapted for children with attachment trauma), Somatic Experiencing, Theraplay, Trust Based Relational Intervention®, Circle of Security Parent Educator, The Alert Program® and Yogapeutics Aerial Yoga Level 1 Teacher Training. Robyn has integrated these training modalities with a foundation of attachment theory and the relational neurosciences to create an attachment-rich, sensory-sensitive, and relational neurosciences supported healing environment for children and families. Robyn consults, teaches, and trains extensively throughout the US, including as an instructor for the Foundations of Interpersonal Neurobiology Certificate Program at Portland Community College and with the Adoptive & Foster Family Therapy Post-Graduate Certificate Program offered by Portland State University and Oregon's Department of Human Services.
---

---
Please register for all Gladney University trainings on EVENTBRITE
Karin Matula, Gladney University Coordinator karin.matula@gladney.org 817.922.6073
When
October 3rd, 2019 9:00 AM through 4:00 PM
If you would like to amend an existing registration, please call us at 817-922-6005. If registering for another person, please enter their name in the participant section and your name in the billing section.