GLADNEY UNIVERSITY: The purpose of Gladney University is to equip clients and professionals with the knowledge they need to help provide positive and healthy outcomes for the children we serve. Gladney University provides adoptive parents with education and support before, during and after their adoption. This education and support helps Gladney provide the finest adoption experience possible, and its part of Gladney's promise of family for life. Additionally, Gladney University provides medical professionals, counselors, social service advocates and community members with cutting edge continuing education programs by offering relevant and engaging, web-based and in person educational adoption and child welfare resources. Gladney is uniquely positioned to provide outstanding training to parents and professionals because of our 130-year history of serving families and children. Our staff is highly qualified, experienced and compassionate. This combination creates dynamic and very successful training programs.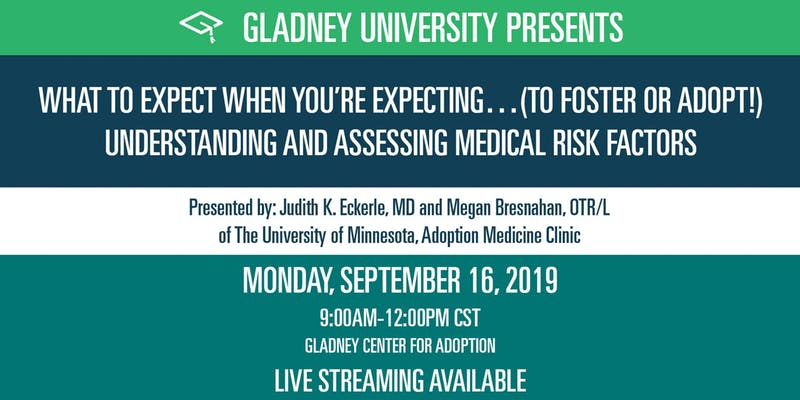 ---
DESCRIPTION
This two part workshop will aim to give information to adoptive/foster parents on the basics of pre and post adoption/foster care parenting and what to expect. The pre-adoption session will focus on some of the main risk factors that parents need to consider prior to parenting. The post-adoption session will discuss initial screening for the child with history of adoption/foster care and what may be needed to maximize their potential.
About the Speakers
Judith K. Eckerle, MD is the Medical Director of the Adoption Medicine Clinic (AMC) at the University of Minnesota. Dr. Eckerle assists families pre and post adoption with consultation, referral and clinical services. Her academic interests include FASD research, adoption and foster care issues and global advocacy for children.
Megan Bresnahan is an Occupational Therapist at the University of Minnesota Masonic Children's Hospital. She has worked closely with the Adoption Medicine Clinic for 13 years. Megan has a passion for working with children along with their families and caregivers to build trusting relationships to achieve desired progress and outcomes.
FAQs
Are Continuing Education Units (CEUs) offered for this training?
We are happy to offer 3 social work and counseling CEUs for both in-person attendees and live stream viewers. Certificates of Completion are available for all attendees.
Can I change my ticket from In Person to Live Stream or vice versa?
We are only able to change ticket types up until 12PM the day before the event.
Are there ID or minimum age requirements to enter the event?
No minimum age and you do not have to provide your ID to gain entrance.
Where do I park?
Parking is free and provided around the front of the Gladney Center for Adoption.
What can I bring into the event?
Feel free to bring pen, paper or an electronic device to take notes on. You are welcome to bring in drinks, however we do not allow red liquids in our event space. Light refreshments will be provided.
Do I have to bring my printed ticket to the event?
Yes! Alternatively, if you have your mobile ticket on your device, that will suffice! Be sure and check in at the registration table before the event.
Will the event be live streamed?
Yes
---

---
Please register for all Gladney University trainings on EVENTBRITE
Karin Matula, Gladney University Coordinator karin.matula@gladney.org 817.922.6073
When
September 16th, 2019 9:00 AM through 12:00 PM
If you would like to amend an existing registration, please call us at 817-922-6005. If registering for another person, please enter their name in the participant section and your name in the billing section.