GLADNEY UNIVERSITY: The purpose of Gladney University is to equip clients and professionals with the knowledge they need to help provide positive and healthy outcomes for the children we serve. Gladney University provides adoptive parents with education and support before, during and after their adoption. This education and support helps Gladney provide the finest adoption experience possible, and its part of Gladney's promise of family for life. Additionally, Gladney University provides medical professionals, counselors, social service advocates and community members with cutting edge continuing education programs by offering relevant and engaging, web-based and in person educational adoption and child welfare resources. Gladney is uniquely positioned to provide outstanding training to parents and professionals because of our 130-year history of serving families and children. Our staff is highly qualified, experienced and compassionate. This combination creates dynamic and very successful training programs.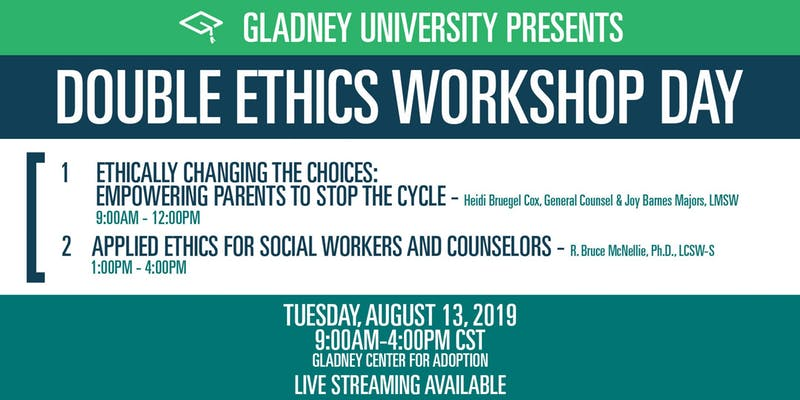 ---
DESCRIPTION
Session 1: 9:00 - 12:00
"Ethically Changing the Choices: Empowering Parents to Stop the Cycle"
Presented by Heidi Bruegel Cox, General Counsel and Joy Barnes Majors, LMSW
We all enter the field of child welfare filled with a passion for making a difference for people. How does that turn to burn-out? When did our initial passion become monitoring and charting rules, protocols, and services plans? And why do we feel often ineffective, even when we do everything that we have been trained to do? There are often options that could be missed while we are tracking rules, protocols, and services plans. This interactive session will encourage practitioners to expand the view of their options. We will look outside the proverbial box of assigned routes in a case, and seek innovative alternatives which may better engage families in decision making, lead to better outcomes for children, and enhance the work experience of child welfare professionals.
About the Speakers
Heidi Bruegel Cox is the Executive Vice President and General Counsel for the Gladney Center for Adoption in Fort Worth, Texas, and has worked as an attorney in the field of adoption for over 27 years. Heidi is a Fellow with the American Academy of Adoption Attorneys, has written numerous articles, has appeared on several television programs highlighting adoption, and serves on many committees focused on family law and child welfare.
As a child advocate, Heidi is active in educating the public and promoting legislative initiatives to protect children and support positive adoption practices. She is also involved with adoption at the national level, serving as Vice Chair for the National Council for Adoption.
Heidi previously served as a gubernatorial appointee to the Texas Adoption Review Committee which examined the child welfare system, seeking solutions to remove barriers to adoption for children in foster care. Heidi has also served on the board member of the Family Law Council, which supports the efforts of the Family Law Section of the State Bar of Texas.
In the international arena, Heidi has assisted with agency placements from Asia, Eastern Europe, Africa and Latin America.
A frequent speaker, Heidi has been presenting adoption programs and papers to professionals and the community since 1990.
Joy Barnes Majors, LMSW has been with the Gladney Center for Adoption for over six years. She obtained both her Bachelor's (2013) and Master's(2015) degree in Social Work from the University of Texas in Arlington. She started out as an intern and quickly became a contract worker for Gladney while finishing out her internship. From there, she became the recruiter for the New Beginnings program and eventually moved into casework. She is now the Supervisor of the program. Joy is also a Circle of Security Facilitator, a Field Instructor for TCU, UTA, and WNMU, and an Adjunct Professor at UTA. Joy is married and has one daughter.

Session 2: 1:00 - 4:00
"Applied Ethics for Social Workers and Counselors"
Presented by R. Bruce McNellie, Ph.D., LCSW-S
In this workshop we'll discuss the codes of ethics that affect professional social work and counseling, and use specific vignettes for discussion of how the values of the profession are applied.
About the Speaker
Dr. McNellie's primary career has been with Child Protective Services in the Fort Worth area and in East Texas, retiring as program director in Nacogdoches in 2004. He began teaching in the Social Work program at Stephen F. Austin State University in 1984 and in the Psychology Department at Northcentral University in 2005. Dr. McNellie began a non-profit medical organization, Projectbelize.org, in 1988, which completes annual clinics with Mayan Indians in the Toledo District of Belize, Central America. He is married with three children and seven grandchildren, and loves skiing and travel.
---

---
Please register for all Gladney University trainings on EVENTBRITE
Karin Matula, Gladney University Coordinator karin.matula@gladney.org 817.922.6073
When
August 13th, 2019 9:00 AM through 4:00 PM
If you would like to amend an existing registration, please call us at 817-922-6005. If registering for another person, please enter their name in the participant section and your name in the billing section.