GLADNEY UNIVERSITY: The purpose of Gladney University is to equip clients and professionals with the knowledge they need to help provide positive and healthy outcomes for the children we serve. Gladney University provides adoptive parents with education and support before, during and after their adoption. This education and support helps Gladney provide the finest adoption experience possible, and its part of Gladney's promise of family for life. Additionally, Gladney University provides medical professionals, counselors, social service advocates and community members with cutting edge continuing education programs by offering relevant and engaging, web-based and in person educational adoption and child welfare resources. Gladney is uniquely positioned to provide outstanding training to parents and professionals because of our 130-year history of serving families and children. Our staff is highly qualified, experienced and compassionate. This combination creates dynamic and very successful training programs.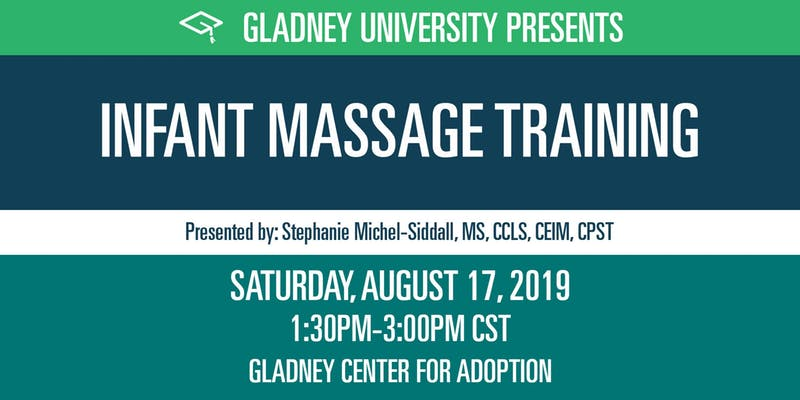 ---
DESCRIPTION
"Infant massage is an ancient art that connects you deeply with the person who is your baby, and helps you to understand your baby's particular nonverbal language and respond with love and respectful listening. It empowers you as a parent, for it gives you the means by which you become an expert on your own child."
— Vimala McClure, author of Infant Massage, A Handbook for Loving Parents
Parents may bring their baby to this workshop or choose to use the instructor's doll. Please indicate your choice when you register. The workshop will take place on the floor, so please bring a blanket to provide a comforting environment for your baby! The instructor will provide oils and all other essentials for infant massage.
About the Speaker
Stephanie Michel-Siddall,MS,CCLS,CEIM,CPST is a Certified Child Life Specialist at Medical City Frisco and Plano. As a Child Life Specialist she helps children and families cope with stressful life events related to the hospital, diagnosis or prognosis. As an educator of Infant Massage, Stephanie advocates for families to bond and establish routines. She has seen the benefits of Infant Massage first hand with medically fragile babies in the Neonatal Intensive Care Unit, with typically developing children, and with her own daughter. She is excited to partner with the Gladney Center for Adoption and provide hands on infant massage training.
---

---
Please register for all Gladney University trainings on EVENTBRITE
Karin Matula, Gladney University Coordinator karin.matula@gladney.org 817.922.6073
When
August 17th, 2019 1:30 PM through 3:00 PM
If you would like to amend an existing registration, please call us at 817-922-6005. If registering for another person, please enter their name in the participant section and your name in the billing section.