GLADNEY UNIVERSITY: The purpose of Gladney University is to equip clients and professionals with the knowledge they need to help provide positive and healthy outcomes for the children we serve. Gladney University provides adoptive parents with education and support before, during and after their adoption. This education and support helps Gladney provide the finest adoption experience possible, and its part of Gladney's promise of family for life. Additionally, Gladney University provides medical professionals, counselors, social service advocates and community members with cutting edge continuing education programs by offering relevant and engaging, web-based and in person educational adoption and child welfare resources. Gladney is uniquely positioned to provide outstanding training to parents and professionals because of our 130-year history of serving families and children. Our staff is highly qualified, experienced and compassionate. This combination creates dynamic and very successful training programs.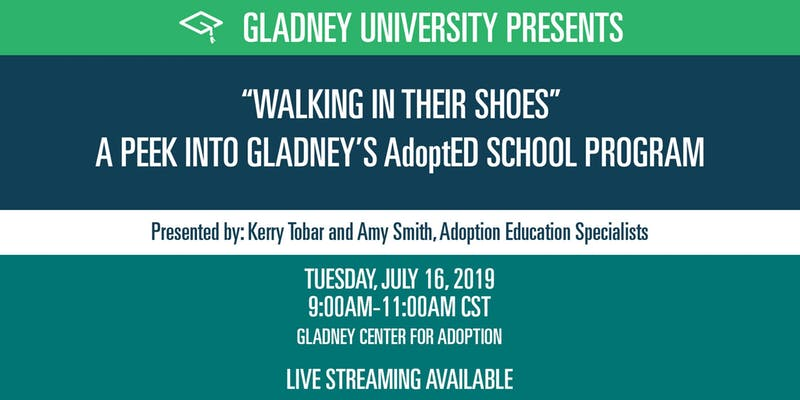 ---
DESCRIPTION
Take a peek inside Gladney's AdoptED program that involves role play, walking students through the full process of adoption from the roles of birthparents, adoptive parents, and caseworkers. Hands-on activities in this lesson will engage in decision-making and critical thinking. Join us and be a high school student again!

About the Speakers
Amy Smith received a Bachelor's of Science in Family and Consumer Science with a Major in Family and Child Development and Minor in Mass Communications from Texas State University – San Marcos in 2015. After an internship with an International Adoption Agency, Amy developed a passion for adoption and non-profit organizations. She joined The Gladney Center for Adoption in 2016 following a position with another local non-profit providing supportive housing and resources to the homeless community of Fort Worth. Amy is overjoyed to educate others about her passion through the mission of Gladney.
Amy comes from a family of educators who have supported her through every step of life. She values the power of education and family and believes every student has the ability to become resilient amongst life's challenges if given the appropriate environment and tools to thrive.
Kerry Tobar received a Bachelor of Arts in Human Development and Family Studies from Texas Tech University in 2000. She spent fourteen years in the classroom as a teacher in FWISD and was chosen Teacher of the Year in 2007. Kerry joined the Gladney Center for Adoption in 2015 and is thrilled to work with such an amazing organization.
Kerry's primary goal for AdoptED is to educate students and the community about the power of adoption by empowering and inspiring them. She has confidence in the AdoptED curriculum and believes it provides important lessons on decision making, goal setting, and positive life choices for students. With the support of her husband and two young sons, Kerry is excited to bring this fun and hands on curriculum to schools.
---

---
Please register for all Gladney University trainings on EVENTBRITE
Karin Matula, Gladney University Coordinator karin.matula@gladney.org 817.922.6073
When
July 16th, 2019 9:00 AM through 11:00 AM
If you would like to amend an existing registration, please call us at 817-922-6005. If registering for another person, please enter their name in the participant section and your name in the billing section.