GLADNEY UNIVERSITY: The purpose of Gladney University is to equip clients and professionals with the knowledge they need to help provide positive and healthy outcomes for the children we serve. Gladney University provides adoptive parents with education and support before, during and after their adoption. This education and support helps Gladney provide the finest adoption experience possible, and its part of Gladney's promise of family for life. Additionally, Gladney University provides medical professionals, counselors, social service advocates and community members with cutting edge continuing education programs by offering relevant and engaging, web-based and in person educational adoption and child welfare resources. Gladney is uniquely positioned to provide outstanding training to parents and professionals because of our 130-year history of serving families and children. Our staff is highly qualified, experienced and compassionate. This combination creates dynamic and very successful training programs.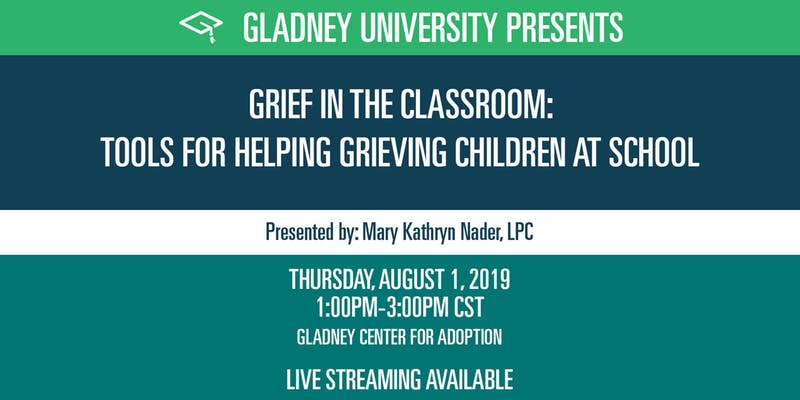 ---
DESCRIPTION
An estimated 1 out of 15 children in the United States will experience a parent or sibling death before they reach the age of 18, according to the recently released Childhood Bereavement Estimation Model (CBEM). That means about one child in every classroom is grieving, but many school and counseling professionals do not know how to help a grieving child.
According to the CBEM, "Childhood bereavement is a public health issue that has long been overlooked. The death of a parent or other important person in a child's life has been noted to be one of the most commonly reported and disruptive Adverse Childhood Experiences (ACEs). Yet, a lack of understanding of the prevalence and impact of experiencing such a death as a child has led to neglect in addressing the issue." (https://childrengrieve.org/awareness/childhood-bereavement-estimation-model-cbem)
In this presentation, we will discuss a child's grief journey and how we can assist grieving children in a school setting with practical activities, tools and resources.

About the Speaker
Mary Kathryn Nader is a Licensed Professional Counselor who is passionate about helping grieving families. With her previous experience working at The WARM Place, a grief support center for children and families in Fort Worth, and now her experience helping grieving families in private practice, she is honored to return to Gladney University to present to school professionals about ways they can help grieving kids. She is the owner of Hope Counseling and Consulting Services, PLLC, and she meets with clients of all ages at her office in Weatherford, Texas. Mary Kathryn provides workshops for community groups, schools, and church staff about grief. She is a member of the National Alliance for Grieving Children and the American Counseling Association.
---

---
Please register for all Gladney University trainings on EVENTBRITE
Karin Matula, Gladney University Coordinator karin.matula@gladney.org 817.922.6073
When
August 1st, 2019 1:00 PM through 3:00 PM
If you would like to amend an existing registration, please call us at 817-922-6005. If registering for another person, please enter their name in the participant section and your name in the billing section.