GLADNEY UNIVERSITY: The purpose of Gladney University is to equip clients and professionals with the knowledge they need to help provide positive and healthy outcomes for the children we serve. Gladney University provides adoptive parents with education and support before, during and after their adoption. This education and support helps Gladney provide the finest adoption experience possible, and its part of Gladney's promise of family for life. Additionally, Gladney University provides medical professionals, counselors, social service advocates and community members with cutting edge continuing education programs by offering relevant and engaging, web-based and in person educational adoption and child welfare resources. Gladney is uniquely positioned to provide outstanding training to parents and professionals because of our 130-year history of serving families and children. Our staff is highly qualified, experienced and compassionate. This combination creates dynamic and very successful training programs.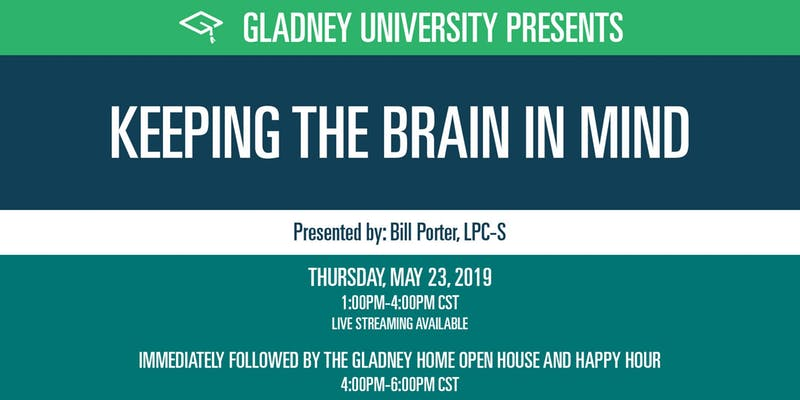 ---
DESCRIPTION
Regardless of whether you are a parent, a counselor, a teacher, a social worker or anyone who serves others, a basic understanding of how the brain works can be extremely helpful in increasing effectiveness with your interactions with others. Come learn about the ideal world for brain development, the effects of abuse and neglect on the brain and the ways in which we can keep the brain in mind when working with others. It's not rocket science, but it is brain science!!
Please join us immediately after this workshop for Happy Hour with appetizers, drinks, and tours of our newly re-purposed Gladney Home!
About the Speaker:
Bill Porter is a Licensed Professional Counselor - Supervisor in the state of Texas. He has 20 years of experience in providing counseling, support and advocacy to at-risk children, youth, and families. Bill joined the Gladney Family in 2013 and he spends most of his time leading his team in providing "best practices" to adoptees, birth families and adoptive families. Bill has been trained through the Trust-based Relational Intervention TBRI® at Texas Christian University and has provided clinical supervision and consultation in evidenced based programming. Bill received his Bachelors of Arts in Religion from Southern Nazarene University and his Masters of Education in Counseling from North Texas University.
---

---
Please register for all Gladney University trainings on EVENTBRITE
Karin Matula, Gladney University Coordinator karin.matula@gladney.org 817.922.6073
When
May 23rd, 2019 1:00 PM through 4:00 PM
If you would like to amend an existing registration, please call us at 817-922-6005. If registering for another person, please enter their name in the participant section and your name in the billing section.