GLADNEY UNIVERSITY: The purpose of Gladney University is to equip clients and professionals with the knowledge they need to help provide positive and healthy outcomes for the children we serve. Gladney University provides adoptive parents with education and support before, during and after their adoption. This education and support helps Gladney provide the finest adoption experience possible, and its part of Gladney's promise of family for life. Additionally, Gladney University provides medical professionals, counselors, social service advocates and community members with cutting edge continuing education programs by offering relevant and engaging, web-based and in person educational adoption and child welfare resources. Gladney is uniquely positioned to provide outstanding training to parents and professionals because of our 130-year history of serving families and children. Our staff is highly qualified, experienced and compassionate. This combination creates dynamic and very successful training programs.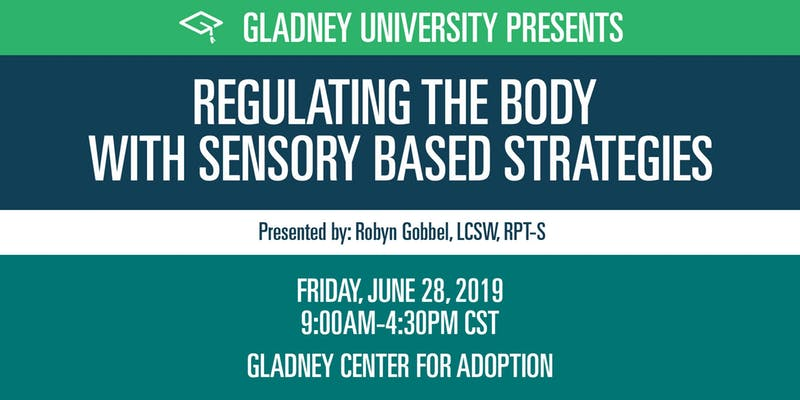 ---
DESCRIPTION
The course will start with a brief review of brain development and the impact of toxic stress on the part of the brain that has left your child dysregulated, unpredictable, and confusing. Through movement, rhythm, and other sensory based interventions, attendees will learn strategies to help children in moments of dysregulation as well as how to strengthen the lowest parts of the brain so dysregulation happens less often. Robyn will also teach a system (based on the Alert Program and the Zones of Regulation) that will help parents/caregivers and children both NOTICE and then CHANGE their state of regulation. Participants will receive two flipbooks full of activities that promote regulation and teach children how to move into a more regulated state.
About the Speaker
Robyn Gobbel, LCSW, RPT-S has over 10 years of practice in family and play therapy experience, specializing in complex trauma, attachment, and adoption. In 2009, Robyn earned a post-graduate certificate in Therapy with Foster & Adopted Children & Families from Portland State University. Robyn's diverse clinical training includes EMDR (including EMDR adapted for children with attachment trauma), Somatic Experiencing, and Theraplay. She is a Trust Based Relational Intervention® Educator and a Circle of Security Parent Educator. Robyn is a dedicated student of attachment theory and Interpersonal Neurobiology, studying extensively with Bonnie Badenoch, PhD. She is trained in The Alert Program® and has completed Yogapeutics Aerial Yoga Level 1 Teacher Training. Robyn consults, teaches, and trains extensively throughout the US, including as an instructor for the Foundations of Interpersonal Neurobiology Certificate Program at Portland Community College and with the Adoptive & Foster Family Therapy Post-Graduate Certificate Program offered by Portland State University and Oregon's Department of Human Services. To read more about Robyn's clinical history and current practice, visit www.GobbelCounseling.com
---

---
Please register for all Gladney University trainings on EVENTBRITE
Karin Matula, Gladney University Coordinator karin.matula@gladney.org 817.922.6073
When
June 28th, 2019 9:00 AM through 4:30 PM
If you would like to amend an existing registration, please call us at 817-922-6005. If registering for another person, please enter their name in the participant section and your name in the billing section.