GLADNEY UNIVERSITY: The purpose of Gladney University is to equip clients and professionals with the knowledge they need to help provide positive and healthy outcomes for the children we serve. Gladney University provides adoptive parents with education and support before, during and after their adoption. This education and support helps Gladney provide the finest adoption experience possible, and its part of Gladney's promise of family for life. Additionally, Gladney University provides medical professionals, counselors, social service advocates and community members with cutting edge continuing education programs by offering relevant and engaging, web-based and in person educational adoption and child welfare resources. Gladney is uniquely positioned to provide outstanding training to parents and professionals because of our 130-year history of serving families and children. Our staff is highly qualified, experienced and compassionate. This combination creates dynamic and very successful training programs.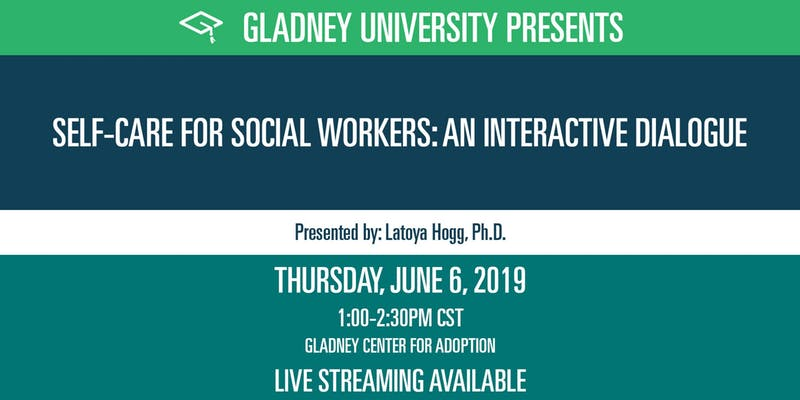 ---
DESCRIPTION
Self-care is a concept that is often encouraged, but never really practiced by many in the social work field. During this presentation, participants will be re-introduced to signs of 'burnout', compassion fatigue, vicarious trauma, and secondary traumatic stress. Participants will also have an opportunity to dialogue with their fellow colleagues on how they utilize self-care, in addition to being provided with interactive activities and ideas they can take back to their home agency.

About the Speaker
Latoya S. Hogg is a native of Dallas, Texas and has worked in the child welfare field since 2011. She obtained her Bachelor of Science degree from the University of Texas at Tyler, and her Master of Social Work from Stephen F. Austin State University. Since beginning her career in child welfare in 2011, Ms. Hogg has worked in various capacities in the Foster Care field, and has recently transitioned into International and Domestic Adoptions. Ms. Hogg is currently a Ph.D. student at Howard University. She has participated as a BSW and MSW Field Instructor for the University of Texas at Arlington, the University of Texas Rio Grande Valley, Jarvis Christian University, and her alma mater Stephen F. Austin State University. Ms. Hogg is also an Adjunct Faculty member at the University of Texas at Arlington. Her passion is to educate the masses and to produce effective social workers into the ever-changing society we live in. Ms. Hogg continues to work toward educating her colleagues and students on effective management of stress within the work place.
---

---
Please register for all Gladney University trainings on EVENTBRITE
Karin Matula, Gladney University Coordinator karin.matula@gladney.org 817.922.6073
When
June 6th, 2019 1:00 PM through 2:30 PM
If you would like to amend an existing registration, please call us at 817-922-6005. If registering for another person, please enter their name in the participant section and your name in the billing section.