GLADNEY UNIVERSITY: The purpose of Gladney University is to equip clients and professionals with the knowledge they need to help provide positive and healthy outcomes for the children we serve. Gladney University provides adoptive parents with education and support before, during and after their adoption. This education and support helps Gladney provide the finest adoption experience possible, and its part of Gladney's promise of family for life. Additionally, Gladney University provides medical professionals, counselors, social service advocates and community members with cutting edge continuing education programs by offering relevant and engaging, web-based and in person educational adoption and child welfare resources. Gladney is uniquely positioned to provide outstanding training to parents and professionals because of our 130-year history of serving families and children. Our staff is highly qualified, experienced and compassionate. This combination creates dynamic and very successful training programs.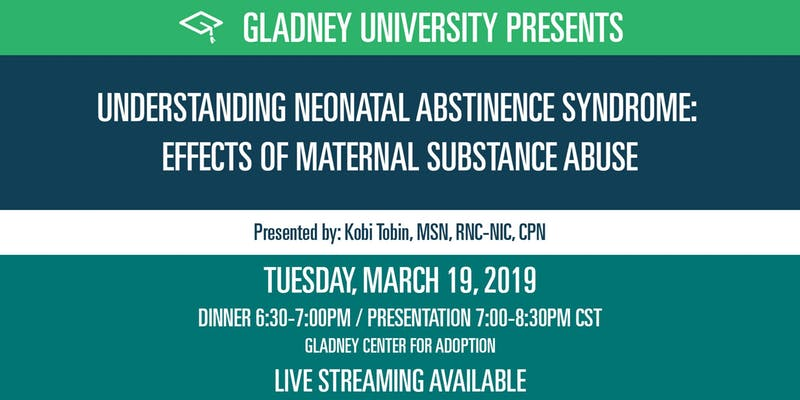 ---
DESCRIPTION
The presentation will provide the audience with an overview of maternal substance use during pregnancy and describe in depth the effects of maternal substance use on the infant after delivery. By the end of the presentation, the audience will be able to describe the signs of Neonatal Abstinence Syndrome (NAS) and identify common treatments including medications utilized in hospital and non-pharmacological interventions parents can use when caring for infants with NAS.
A light dinner will be served at 6:30, with the presentation following at 7:00 - 8:30 PM.
No childcare will be provided.
About the Speaker
Kobi Tobin, MSN, RNC-NIC, CPN is a certified neonatal and pediatric nurse. She graduated with her BSN from Sacramento State University (2012) and earned her MSN in Nursing Education from Midwestern State University (2017). She is passionate about caring for infants with NAS and their families in the NICU. Her Master's Degree, Evidence Based Practice Project, provided over 200 NICU nurses education on Neonatal Abstinence Syndrome and how to successfully interact with mothers with Substance Use Disorder (SUD).
---

---
Please register for all Gladney University trainings on EVENTBRITE
Karin Matula, Gladney University Coordinator karin.matula@gladney.org 817.922.6073
When
March 19th, 2019 6:30 PM through 8:30 PM
If you would like to amend an existing registration, please call us at 817-922-6005. If registering for another person, please enter their name in the participant section and your name in the billing section.