GLADNEY UNIVERSITY: The purpose of Gladney University is to equip clients and professionals with the knowledge they need to help provide positive and healthy outcomes for the children we serve. Gladney University provides adoptive parents with education and support before, during and after their adoption. This education and support helps Gladney provide the finest adoption experience possible, and its part of Gladney's promise of family for life. Additionally, Gladney University provides medical professionals, counselors, social service advocates and community members with cutting edge continuing education programs by offering relevant and engaging, web-based and in person educational adoption and child welfare resources. Gladney is uniquely positioned to provide outstanding training to parents and professionals because of our 130-year history of serving families and children. Our staff is highly qualified, experienced and compassionate. This combination creates dynamic and very successful training programs.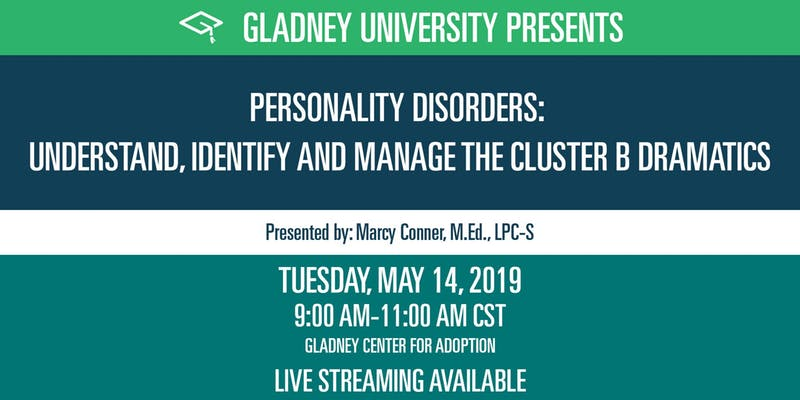 ---
DESCRIPTION
Personality disorders present many challenges to the medical and helping professionals who treat and care for them. Marcy Conner will share knowledge and insight as a professional counselor who herself has been challenged with facilitating effective psychotherapy treatment for these clients.
As a helping professional, do you find yourself challenged with reactions to some clients such as apprehension, anxiety, strong emotional responses, dislike or avoidance?
Are you struggling to cope with and interact or care for clients who have long-term unhealthy and inflexible thinking and behavior patterns?
In this training we will:
Determine what a personality disorder is and how to recognize if a client is suffering from the condition by identifying general signs and symptoms.
Understand the possible causes of a personality disorder to provide more empathetic responses.
Summarize the essential characteristics of the Cluster B dramatic personality disorders listed in the Diagnostic and Statistical Manual of Mental Disorders, 5th Edition, (DSM-V) and gain knowledge of different treatments available.
Address ways to manage suicidality, violence and self-mutilating behaviors often presented by these clients.
Gain a better understanding of how to work with and manage these complex conditions, like these clients, or at least develop more frustration tolerance and have a positive impact on them.
About the Speaker

Marcy Conner M.Ed., LPC-S, NCC is the owner and founder of Compassion Centered Counseling and a Licensed Professional Counselor in the State of Texas. She has worked in private practice settings since 2009 with both individuals and couples. Her areas of expertise are primarily in work with clients struggling with trauma, PTSD, and complex trauma, anxiety, stress, marital/relationships, pre-marital, parenting, blended families, life transitions, depression, grief/loss, bipolar disorder, anger, personality disorders and women's issues.
Ms. Conner is certified with the Couples Institute and The Developmental Model of Couples Therapy in order to help couples resolve issues and create strong, loving relationships. She is EMDR trained with EMDRIA for an integrative psychotherapy approach for the treatment of trauma and other psychological stress.
Ms. Conner focuses on guiding individuals on a path forward with positive intention and choices, healing, and growth. She uses her knowledge and experience in the forefront of modern psychotherapy to deliver a complete learning experience to other mental healthcare professionals.
---

---
Please register for all Gladney University trainings on EVENTBRITE
Karin Matula, Gladney University Coordinator karin.matula@gladney.org 817.922.6073
When
May 14th, 2019 9:00 AM through 11:00 AM
If you would like to amend an existing registration, please call us at 817-922-6005. If registering for another person, please enter their name in the participant section and your name in the billing section.