GLADNEY UNIVERSITY: The purpose of Gladney University is to equip clients and professionals with the knowledge they need to help provide positive and healthy outcomes for the children we serve. Gladney University provides adoptive parents with education and support before, during and after their adoption. This education and support helps Gladney provide the finest adoption experience possible, and its part of Gladney's promise of family for life. Additionally, Gladney University provides medical professionals, counselors, social service advocates and community members with cutting edge continuing education programs by offering relevant and engaging, web-based and in person educational adoption and child welfare resources. Gladney is uniquely positioned to provide outstanding training to parents and professionals because of our 130-year history of serving families and children. Our staff is highly qualified, experienced and compassionate. This combination creates dynamic and very successful training programs.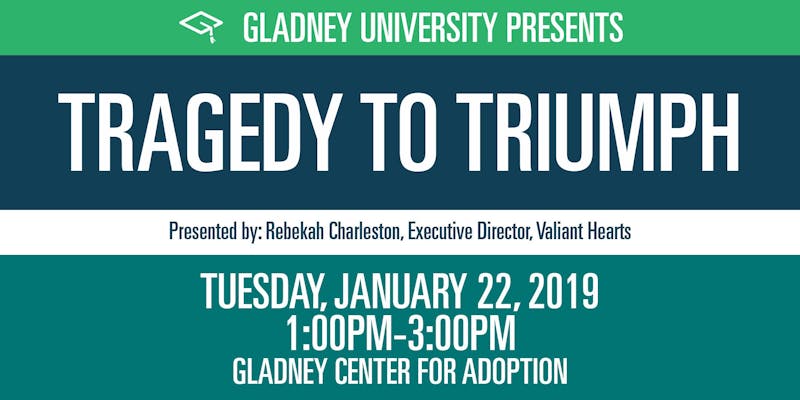 ---
DESCRIPTION
Please join us on Tuesday, January 22nd, 1:00-3:00 PM for Tragedy to Triumph.
Rebekah Charleston will share her personal story of surviving more than a decade of sex trafficking that began as a minor. Rebekah will weave in training throughout to help you understand what sex trafficking looks like in America, how to identify victims and what types of services they will need to live restored lives after their trauma.
About the Speaker
Rebekah Charleston is the Executive Director of Valiant Hearts, a consultant with the National Criminal Justice Training Center, mother, honors graduate student, and advocate for victims of human trafficking. She is passionate about this issue because at the age of 17 she ran away and became a victim of human trafficking for more than ten years. She had multiple traffickers and was not able to escape until the federal authorities finally became involved. As a survivor, Rebekah has wisdom to impart and a story that will help you understand the issue, as well as shedding light on what happens here in America. Rebekah is the recipient of several awards, including the Survivor Leader Award in 2016, and has been featured in multiple media opportunities, including Deadline Crimes. Rebekah's story is one of hope and restoration.
---

---
Please register for all Gladney University trainings on EVENTBRITE
Karin Matula, Gladney University Coordinator karin.matula@gladney.org 817.922.6073
When
January 22nd, 2019 1:00 PM through 3:00 PM
If you would like to amend an existing registration, please call us at 817-922-6005. If registering for another person, please enter their name in the participant section and your name in the billing section.