GLADNEY UNIVERSITY: The purpose of Gladney University is to equip clients and professionals with the knowledge they need to help provide positive and healthy outcomes for the children we serve. Gladney University provides adoptive parents with education and support before, during and after their adoption. This education and support helps Gladney provide the finest adoption experience possible, and its part of Gladney's promise of family for life. Additionally, Gladney University provides medical professionals, counselors, social service advocates and community members with cutting edge continuing education programs by offering relevant and engaging, web-based and in person educational adoption and child welfare resources. Gladney is uniquely positioned to provide outstanding training to parents and professionals because of our 130-year history of serving families and children. Our staff is highly qualified, experienced and compassionate. This combination creates dynamic and very successful training programs.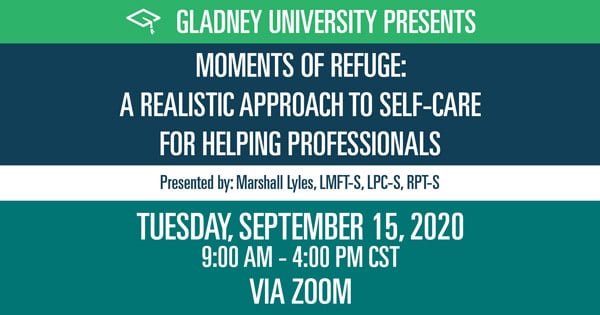 Presented by Gladney University via ZOOM
---
DESCRIPTION
Self-care can be a charged term. We all need it, but taking time and resources to pursue self-care can bring its own stress. This leads to a problematic stuckness that is a road to burnout and compromising moments in our careers. As helping professionals, it is important for us to find realistic opportunities to replenish so that we can continue in the important work of healing. This workshop will present (and offer moments to practice) bite-size rituals for self-care, while helping helpers to anticipate and leave room for self-care in a grounded future.
Speaker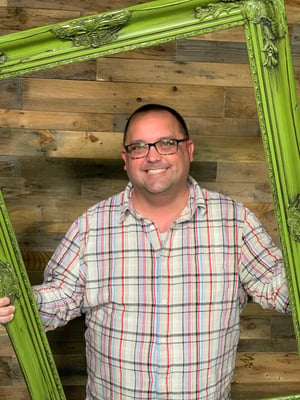 Marshall Lyles, LPC-S, LMFT-S, RPT-S, has over 15 years of practice in family and play therapy. Drawing on lessons learned from working with attachment trauma in a variety of mental health settings, Marshall regularly teaches on trauma, expressive therapies, and attachment-informed family work around the globe. In addition to maintaining a small clinical practice, Marshall also conducts supervision and consultation sessions with counseling professionals who are pursuing EMDR certification and RPT status, often with a particular focus on the use of sandtray therapy. He is EMDR-certified and TBRI-trained. As Marshall is nearing the completion of his Ph.D. in Marriage and Family Therapy, more writing opportunities are emerging.
---

---
When
September 15th, 2020 9:00 AM through 4:00 PM
If you would like to amend an existing registration, please call us at 817-922-6005. If registering for another person, please enter their name in the participant section and your name in the billing section.