GLADNEY UNIVERSITY: The purpose of Gladney University is to equip clients and professionals with the knowledge they need to help provide positive and healthy outcomes for the children we serve. Gladney University provides adoptive parents with education and support before, during and after their adoption. This education and support helps Gladney provide the finest adoption experience possible, and its part of Gladney's promise of family for life. Additionally, Gladney University provides medical professionals, counselors, social service advocates and community members with cutting edge continuing education programs by offering relevant and engaging, web-based and in person educational adoption and child welfare resources. Gladney is uniquely positioned to provide outstanding training to parents and professionals because of our 130-year history of serving families and children. Our staff is highly qualified, experienced and compassionate. This combination creates dynamic and very successful training programs.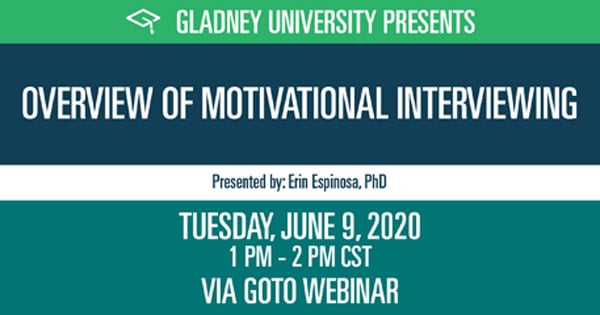 ---
DESCRIPTION
Motivational Interviewing (MI) is a form of collaborative conversation for strengthening a person's own motivation and commitment to change. It is a strategy or approach human service workers can use to explore and address the problem of ambivalence about change by paying particular attention to the language of change. Upon completion of this webcast, participants will be able to (1) identify the stages toward learning MI, (2) understand the value of the approach, and (3) practice some of the specific skills to begin learning how to do MI.
Speaker
Erin M. Espinosa, PhD, joined National Council on Crime & Delinquency in 2019 as a senior researcher. Prior to joining NCCD, she served as the Director of the Texas Center of the Institute for Innovation and Implementation out of the University of Maryland's School of Social Work, and as a consultant for the Child, Adolescent, and Family Branch's (CAFB) Children's Mental Health Initiative (CMHI) of the Substance Abuse and Mental Health Services Administration (SAMHSA). She began her career in social justice practice as a case manager at an all-girls juvenile justice facility and then served as a juvenile probation officer before moving on to the state juvenile justice agency in Texas.

In her more than 20 years working in and researching child- and family-serving systems at the local, state, and national levels, Erin has published widely, presented research findings, conducted trainings, provided technical assistance, and undertaken or directed a wide range of implementation- and research-related efforts in juvenile justice and children's mental health. Her primary research interest is in using and translating data to bridge research to policy and practice.
---

---
When
June 9th, 2020 1:00 PM through 2:00 PM
If you would like to amend an existing registration, please call us at 817-922-6005. If registering for another person, please enter their name in the participant section and your name in the billing section.