GLADNEY UNIVERSITY: The purpose of Gladney University is to equip clients and professionals with the knowledge they need to help provide positive and healthy outcomes for the children we serve. Gladney University provides adoptive parents with education and support before, during and after their adoption. This education and support helps Gladney provide the finest adoption experience possible, and its part of Gladney's promise of family for life. Additionally, Gladney University provides medical professionals, counselors, social service advocates and community members with cutting edge continuing education programs by offering relevant and engaging, web-based and in person educational adoption and child welfare resources. Gladney is uniquely positioned to provide outstanding training to parents and professionals because of our 130-year history of serving families and children. Our staff is highly qualified, experienced and compassionate. This combination creates dynamic and very successful training programs.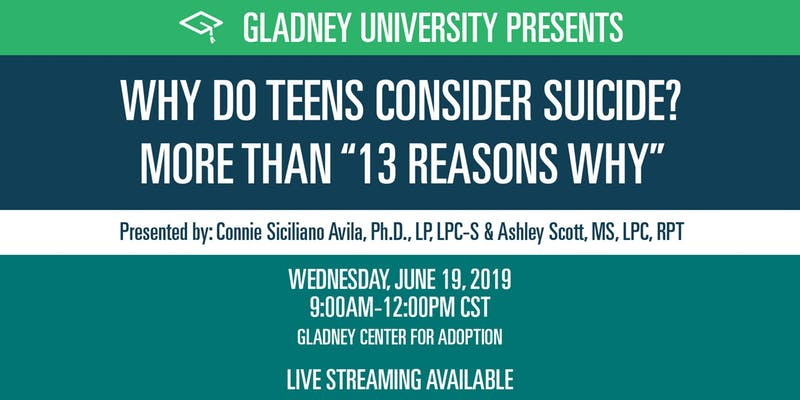 ---
DESCRIPTION
This presentation will cover more than "13 Reasons Why" teens consider suicide. The aim will be to help therapists and professionals understand risk factors that are involved in teen suicide issues, obtain knowledge regarding developmental issues during adolescence related to suicidal thinking and behaviors, gain awareness of protocols, assessment, intervention, and treatment options, as well as to develop knowledge of resources available to assist at-risk teens.
About the Speaker:
Dr. Connie Siciliano Avila is a licensed psychologist and professional counselor supervisor. She completed her Ph.D. in Counseling Psychology at Texas Women's University. She has worked in clinical (psychiatric hospital and addiction residential) and non-clinical (university counseling and private practice) settings. Currently, Dr. Connie provides psychological services in her private practice at MindSprouts Personal Growth Therapy, LLC and Deer Oaks. Most recently, at University Behavioral Healthcare of Denton, she was Trauma Program Director for the inpatient unit. Previously, at Timberlawn Mental Health System in Dallas, she acted as an administrator of the Trauma Partial Hospitalization Program under the direction of Colin A. Ross, MD. Also, she acted as a case manager at Santé Center for Healing to obtain addiction treatment experience. She has experience working with teens, adults, couples, families, and groups. Lastly, she provides multiple services, such as supervision, consultations, presentations, and contract work.
---

---
Please register for all Gladney University trainings on EVENTBRITE
Karin Matula, Gladney University Coordinator karin.matula@gladney.org 817.922.6073
When
June 19th, 2019 9:00 AM through 12:00 PM
If you would like to amend an existing registration, please call us at 817-922-6005. If registering for another person, please enter their name in the participant section and your name in the billing section.