GLADNEY UNIVERSITY: The purpose of Gladney University is to equip clients and professionals with the knowledge they need to help provide positive and healthy outcomes for the children we serve. Gladney University provides adoptive parents with education and support before, during and after their adoption. This education and support helps Gladney provide the finest adoption experience possible, and its part of Gladney's promise of family for life. Additionally, Gladney University provides medical professionals, counselors, social service advocates and community members with cutting edge continuing education programs by offering relevant and engaging, web-based and in person educational adoption and child welfare resources. Gladney is uniquely positioned to provide outstanding training to parents and professionals because of our 130-year history of serving families and children. Our staff is highly qualified, experienced and compassionate. This combination creates dynamic and very successful training programs.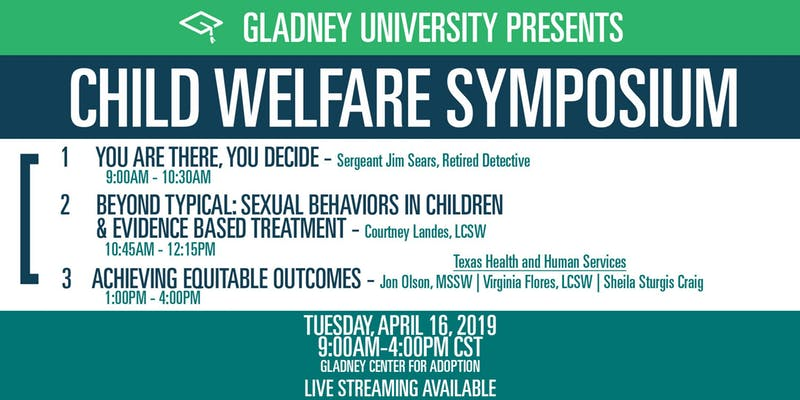 ---
DESCRIPTION
Session 1 Event Description
You Are There - You Decide: Scenario Based Training
9:00 - 10:30
With a team of at least three people, you will work through a case based upon an actual case. Using your questions, you will receive tips and evidence to process to "work the case". There will be a short classroom instructional session followed by the initial information and then it will be up to your team to decide what should be done next. This is hands-on training using realistic approaches to working cases, including
Interview and interrogation overview
Crime scene photography
Investigations
About the Speaker
For over 30 years, Sgt. Jim Sears served as a law enforcement officer with the Irving, TX police department as a patrol officer, school resource officer, and as a detective in the Youth Services, Domestic Violence, and Child Abuse units. More recently, Jim was supervisor for the domestic violence, child abuse, and youth service units at the Irving Family Advocacy Center. A dedicated advocate of children, Sgt Sears currently serves as a law enforcement consultant and instructor with several agencies including the Shaken Baby Alliance for the Serious Physical Child Abuse and SIDS program, Dallas Children's Advocacy Center, Texas Commission on Law Enforcement , Texas Municipal Police Association, and is on the design team for the new Fox Valley / OJJDP national training project for child abuse.
Sgt. Sears is the 2011 Dallas Children's Advocacy Center 's recipient of its Lt. Bill Walsh Award for career achievements in the field of child abuse investigations. Sgt. Sears frequently lectures on topics related to child abuse investigations, interview and interrogation, and crime scene investigations for domestic violence and child abuse. A father of three wonderful boys, Sgt. Sears is dedicated to bringing justice to the victims of domestic violence and child abuse.
Session 2 Event Description
Beyond Typical: Sexual Behaviors in Children & Evidence-Based Treatment
10:45 - 12:15
Traditionally, in the field of child on child sexual abuse, treatment options have been more readily available for victims while therapeutic services for the children who initiate the problematic sexual behavior (PSB) have been lacking. Since 2014, Lena Pope has collaborated with our local Child Advocacy Center (Alliance for Children), Tarrant County Juvenile Services, The Tarrant County District Attorney's Office, Child Protective Services, and local law enforcement to identify and serve specific children who exhibit PSB. This evidence-based therapeutic program (Project SAFeR) engages both children and their caregivers in a supportive group environment to promote better decision making, family healing and the elimination of PSB. In this presentation (a combination of lecture and group discussion), participants will be introduced to the topic of children with PSB, a historically stigmatized, marginalized and under-served population. They will learn about typical versus problematic sexual behavior in children and differentiate between common misconceptions and what is supported by research. We will share information regarding the community collaboration that created and sustains Project SAFeR as well as an overview of our 19-week treatment program. Participants will walk away with a changed perspective, an increased sense of empathy, and specific resources to help them support these families in their own communities.
About the Speaker
Courtney Landes, LCSW received her LMSW in 2011 from The University of Texas at Austin and gained her LCSW in 2015, however she's been working with at-risk kids and families since 2007. Courtney has worked as a therapist at Lena Pope since 2013, primarily with children and adolescents involved in the Juvenile Justice System. She was trained in problematic sexual behavior – cognitive behavioral therapy through the Center on Child Abuse and Neglect at The University of Oklahoma Health Science Center and helped develop Project SAFeR (treatment for children with problematic sexual behavior) at Lena Pope in Fort Worth. As the clinical coordinator of Project SAFeR, Courtney has facilitated the children's group, caregiver's group, and family modality, serves as the organization's within-agency trainer, and has presented both locally and state-wide about children with PSB and Project SAFeR.
Session 3 Event Description
Achieving Equitable Outcomes
1:00-4:00 PM

Data shows disparities in outcomes for children, youth, and families of color in child welfare. This workshop will explore concepts critical to achieving equitable practice, including collaborative approaches to improving outcomes by being inclusive of families, examining data, having conversations about equity and oppression, and engaging the community.
About the Speakers
Jon Olson, MSSW, serves as Operations Program Coordinator with the Health and Human Services Commission Civil Rights Office. After completing one year service with Americorps, he began working with Child Protective Services in 2002. Jon worked as caseworker, supervisor, Family Group Decision Making Specialist, and State Disproportionality Specialist. Jon joined the Center for Elimination of Disproportionality and Disparities at HHSC in 2012, handling data analysis, report writing, and other state projects. He served as Director of Equity and Inclusion from 2014 until September 1, 2018, managing regional equity initiatives and supporting state-level engagement, until the Center was defunded and closed.
Virginia Flores, LCSW is a licensed clinical social worker actively practicing in the Tarrant County community. Her primary practice consists of providing therapeutic services to adults, elders, and families. Ms. Flores is bilingual, serving Spanish speaking individuals as well as English speaking individuals, Specialty issues include domestic, grief, depression, and relationship issues. Ms. Flores is a graduate from the School of Social Work, University of Texas at Arlington. Ms. Flores is an experienced curricula writer, trainer, and facilitator of cultural and equity workshops and seminars. Curriculum topics have included incorporating equity into the workplace, introducing the history and contributions of Latinos in America, how to have courageous conversations around race and ethnicity, and the importance of race and ethnicity to youth in foster care. Background experience includes working for the Texas Health and Human Services Commission as an Equity Specialist. Work as an Equity Specialist centered upon identifying and eliminating organizational, racial, ethnic, and cultural barriers that prevented individuals, children, and families from obtaining services necessary to lead healthy, independent, and productive lives. Prior to this position, Ms. Flores worked for the Texas Department of Family and Protective Services in the Child Protective Services division where she held positions in the various departments ranging from investigations to adoptions. Ms. Flores worked in both rural and urban settings while at Child Protective Services.
Sheila Sturgis Craig has twenty-eight years of experience in the fields of Health and Human Services, Social Service, and Child Welfare, providing services to children, families, and communities in Louisiana and Texas. Sheila believes the keys to successful leadership is integrity and accountability, requires creating a shared vision, and building nets that work affectively for everyone through strong, authentic, and sustainable partnerships. Sheila's strengths are persuasive and influential communication with transparency, humility, and integrity.
---

---
Please register for all Gladney University trainings on EVENTBRITE
Karin Matula, Gladney University Coordinator karin.matula@gladney.org 817.922.6073
When
April 16th, 2019 9:00 AM through 4:00 PM
If you would like to amend an existing registration, please call us at 817-922-6005. If registering for another person, please enter their name in the participant section and your name in the billing section.