GLADNEY UNIVERSITY: The purpose of Gladney University is to equip clients and professionals with the knowledge they need to help provide positive and healthy outcomes for the children we serve. Gladney University provides adoptive parents with education and support before, during and after their adoption. This education and support helps Gladney provide the finest adoption experience possible, and its part of Gladney's promise of family for life. Additionally, Gladney University provides medical professionals, counselors, social service advocates and community members with cutting edge continuing education programs by offering relevant and engaging, web-based and in person educational adoption and child welfare resources. Gladney is uniquely positioned to provide outstanding training to parents and professionals because of our 130-year history of serving families and children. Our staff is highly qualified, experienced and compassionate. This combination creates dynamic and very successful training programs.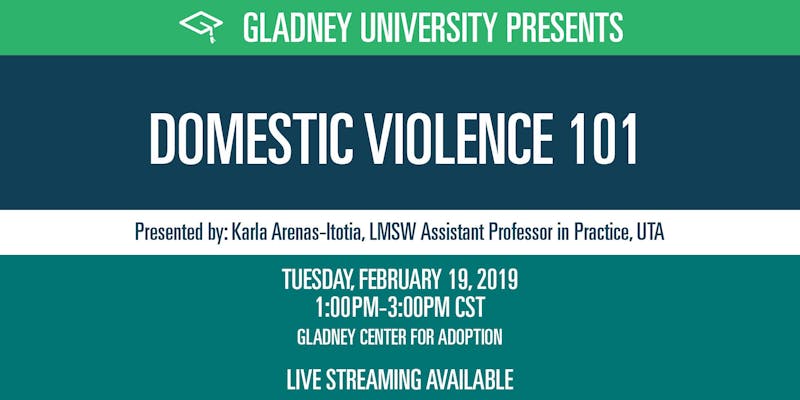 ---
DESCRIPTION
We often hear about domestic violence, but do we know what it is? Could we identify it if we saw it? This presentation will provide information and an opportunity for discussion on the complex dynamics of domestic violence, its prevalence, red flags, supporting survivors, available resources, and how to get involved.
About the Speaker
Karla Arenas-Itotia, LMSW, has primarily spent her career working in higher education and with victims of relationship and sexual violence. She previously oversaw the Relationship Violence and Sexual Assault Prevention (RVSP) Department, as well as served on the Behavior Intervention Team (BIT) as Case Manager at The University of Texas at Arlington. She has served clients in many capacities (e.g. counselor, case manager, educator, advocate) both at non-profits and in higher education. In her previous position she connected many student survivors of IPV and sexual assault to community and university resources, served as a contact for student survivors, provided supportive services, collaborated with other campus organizations and departments, in addition to developed and implemented educational and outreach programs for the UTA campus and Arlington community. Additionally, she worked with students experiencing concerning behaviors on campus and helped ensure that all students obtain necessary resources to achieve student success. She now currently holds a position as Assistant Professor in Practice in the School of Social Work at The University of Texas at Arlington teaching both undergraduate and graduate students.
---

---
Please register for all Gladney University trainings on EVENTBRITE
Karin Matula, Gladney University Coordinator karin.matula@gladney.org 817.922.6073
When
February 19th, 2019 1:00 PM through 3:00 PM
If you would like to amend an existing registration, please call us at 817-922-6005. If registering for another person, please enter their name in the participant section and your name in the billing section.